As a kid, I always loved summertime (who didn't?).  We would spend the days out playing in the woods and in the creek, later skateboarding, still later playing in our band late into the evening.  Nowadays, we're fortunate to live very close to the Smoky Mountains, which is especially nice in the summer.  We try to get to the river to swim as much as possible, and there's nothing like jumping off the rocks into that chilly water on a hot day.  Driving home, we always say, "We should do this more."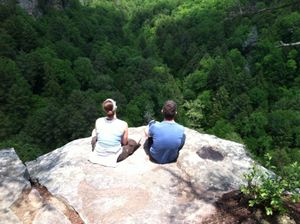 This summer, I'm getting lots of opportunities to go out and play MUSIC - which is awesome.  In May, I got to play an afternoon set at the Richard Leigh Songwriters Festival at Heartwood in Abingdon, VA - an incredible event in a beautiful location.  Last week, I got to share the stage with some really excellent songwriter/peformers at the Open Chord in Knoxville, at one of their Songwriter Nights.  And I have several more shows coming up the next few months here in Maryville, in Athens, and in Johnson City.  
It's great because I just love to play, and it also keeps me writing.  Weekend mornings before it gets hot, I'm often on the front porch playing with bits of new tunes - a riff here, a lyric there that might turn into something.  In the last couple of weeks, I finished a new song (at least I think it's finished) and reworked another one that just hadn't quite been working.  I'm still not quite sure it works, but I'll find out as I play it at these upcoming shows.  Hope to see you there, and I hope you get out to play this summer too!