This page is dedicated to the band I was in during high school,
f(x)
.  (Not to be confused with the
K-pop girl group of the same name
.)  We got together in the summer of 1985.  Dave Hughes and Greg were best friends and they played guitar and drums, respectively.  Dave Johnson and I were best friends and he played bass, while I had both a guitar and drums but couldn't play either very well.  But I could also sing and didn't mind doing so.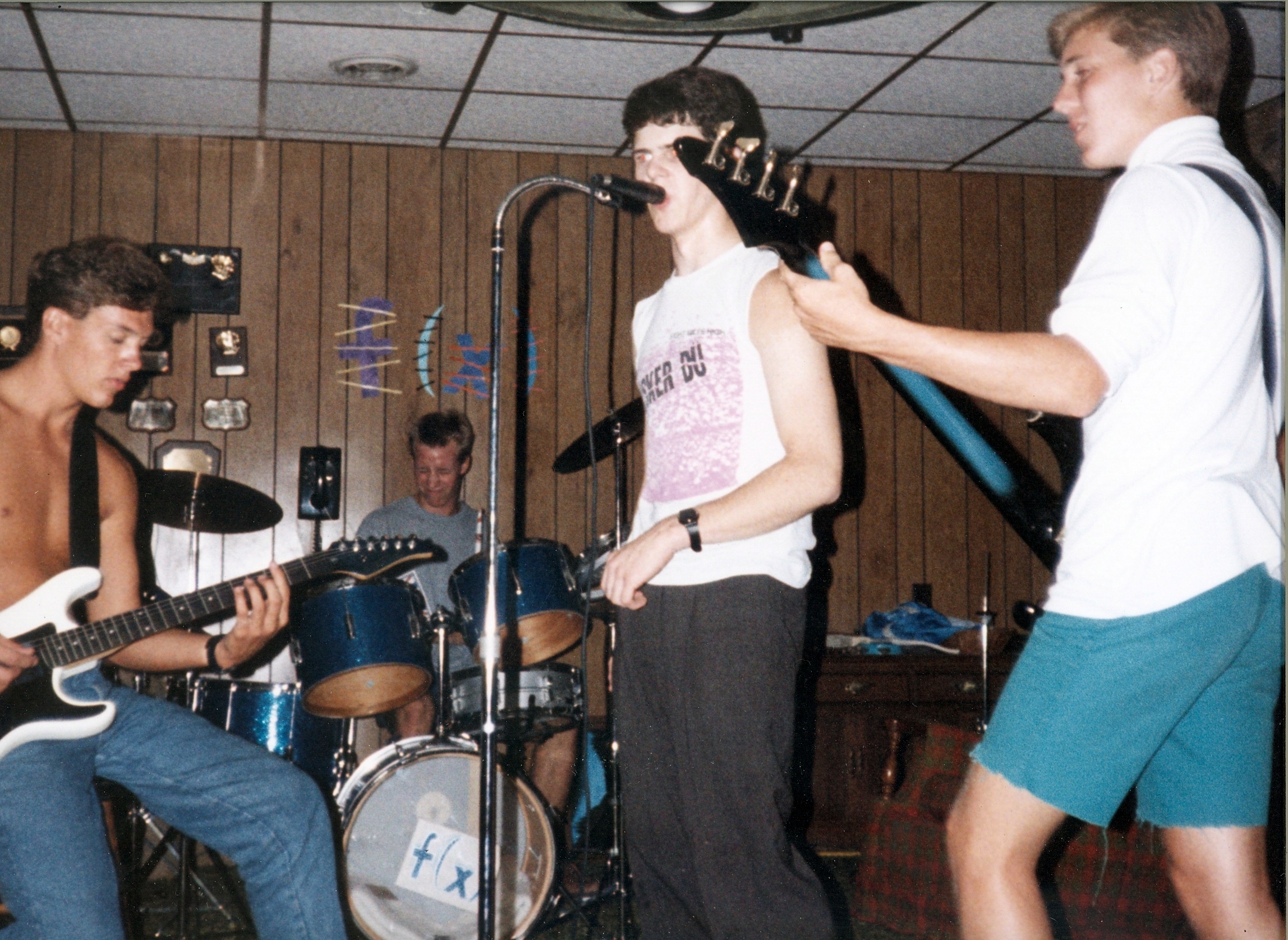 You pretty much get the whole picture in this shot of us from 1987: Dave's spray-painted Kramer, Greg's grimace, my sleeveless t-shirt, Dave's turtleneck,.  Note Greg's custom logo on the wall behind him, as well as the rotary phone on which, theoretically at least, people could call us to book a gig.  We did play some gigs, at such places as Oxford, NC afforded: a room at the Holiday Inn, the lawn in front of the high school, the Orphanage, Liz Denny's back deck, the McDonald's parking lot - and let's not forget that we opened for the cover band Free Fare in the school gym.  But mostly we played right here, in Greg's basement, for whoever showed up.  
We had everything you're supposed to have: a band name no one could pronounce (it was "eff of ex," courtesy of Dave Johnson, whose mom was our math teacher); songs no one could understand, with such memorable titles as "Beat Your Mama's Head In", "Mediterranean Barge", "Kiss a Missile" and "The Furniture Blooze"; and equipment we couldn't operate, like the backbreaking 60s-era mixer that we dubbed "The Rock."  And we had a blast.  So for your listening - I won't say pleasure but maybe fascination - I recorded versions of a couple of our songs, which you can hear below.