"PACK IT UP" RECORDING DIARY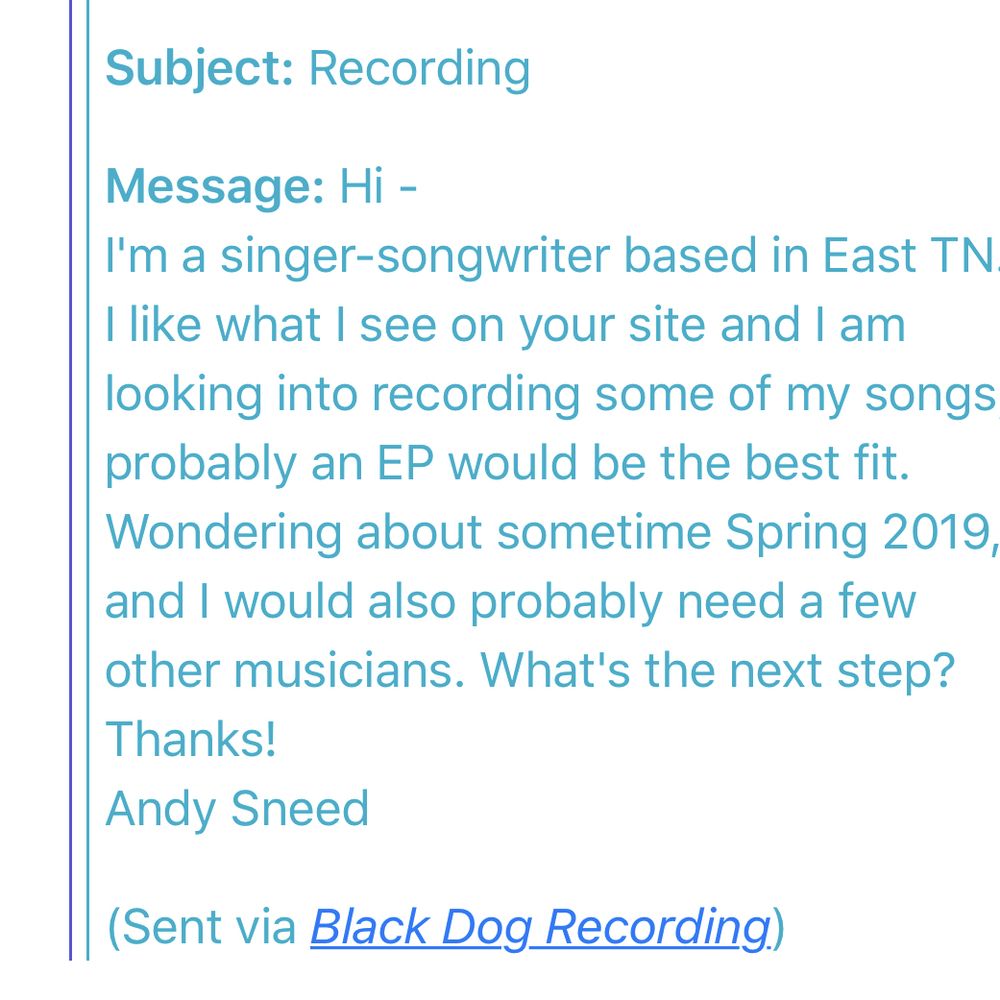 PRE-PRODUCTION
In November 2018, I was looking for an independent recording studio to do bona fide recordings of some of my songs, and I sent the email pictured here to Pete Jacobs at Black Dog Recording in Nashville. He responded, and a couple of months later I was signing a contract to record an EP with him. The plan was to do it in the spring of 2019. Then in February, Susan and I ran into an unexpected large expense that put the EP project on the back burner. By July, I was ready to think about the project again and I reached back out to Pete explaining what had happened. In truth, I wasn't 100% ready just yet, but that didn't matter because now Lorraine was working with Pete on scheduling. When I sent that follow-up email, she took me at my word and started proposing recording dates. Before I knew it, I had dutifully blocked out five days on my calendar—Thursday, October 31-Monday, November 4—and I was lining up musicians. Pete and I spent a Saturday together in early October listening to some of my songs, deciding which ones we wanted to record, and talking about what kind of sound I wanted. What I was after was just a good-sounding, straight-ahead representation of my songs: my acoustic guitar and vocals plus bass, drums, some electric guitar and maybe backing vocals to fill it out. On a bike ride one morning, I decided the record should be called "Pack It Up" - just seemed right.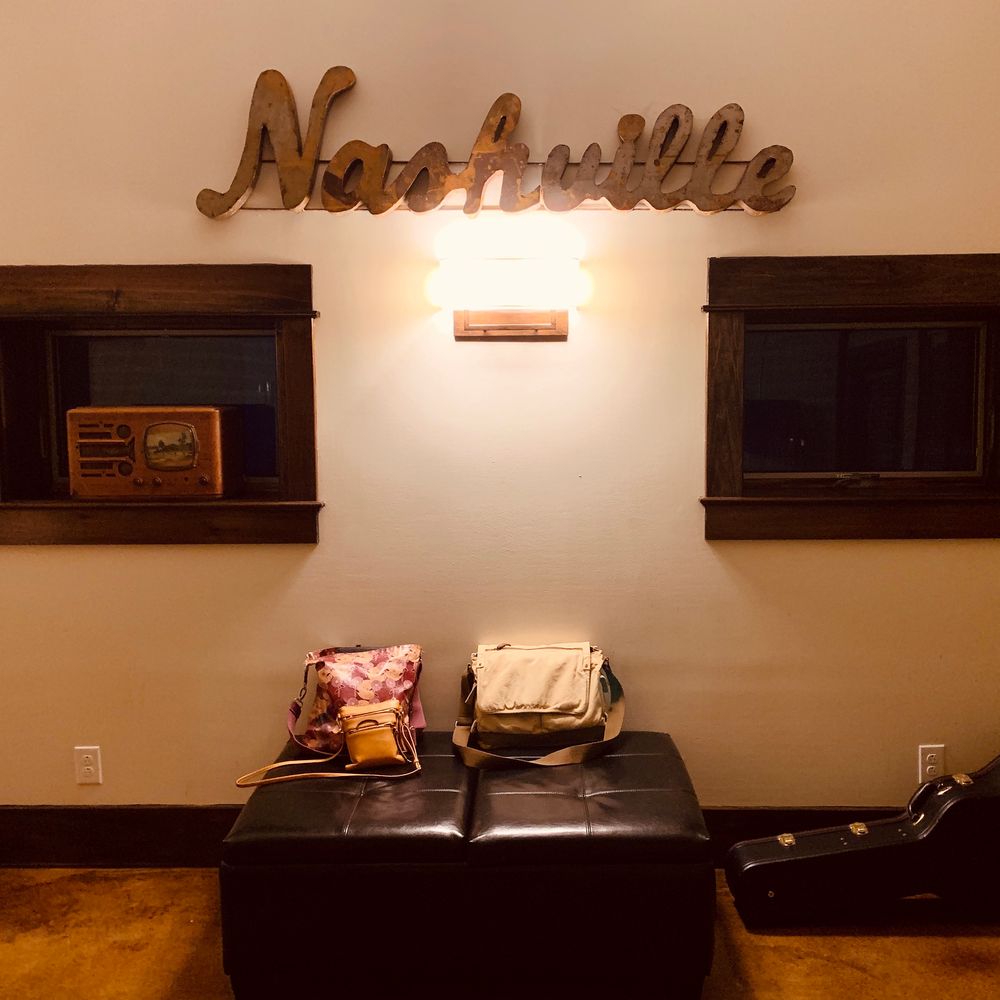 Day One - October 31, 2019
6:30 AM
We got into Nashville about 9:00 CT last night. I dig the Airbnb where we're staying – it's a converted old radio repair shop in the Sylvan Park neighborhood. I need to change my guitar strings. It's dark, chilly, and rainy this morning. Had to go out to a convenience store nearby to get some milk for the morning coffee and, standing there unshowered in the harsh fluorescent light, I felt like I ought to buy some cigs too. Needless to say, I don't smoke. I texted Pete when we got here last night like, "We're here! When do we start?" Felt a little like a dork, then had the happy realization that I'm too old to feel bad about being a dork.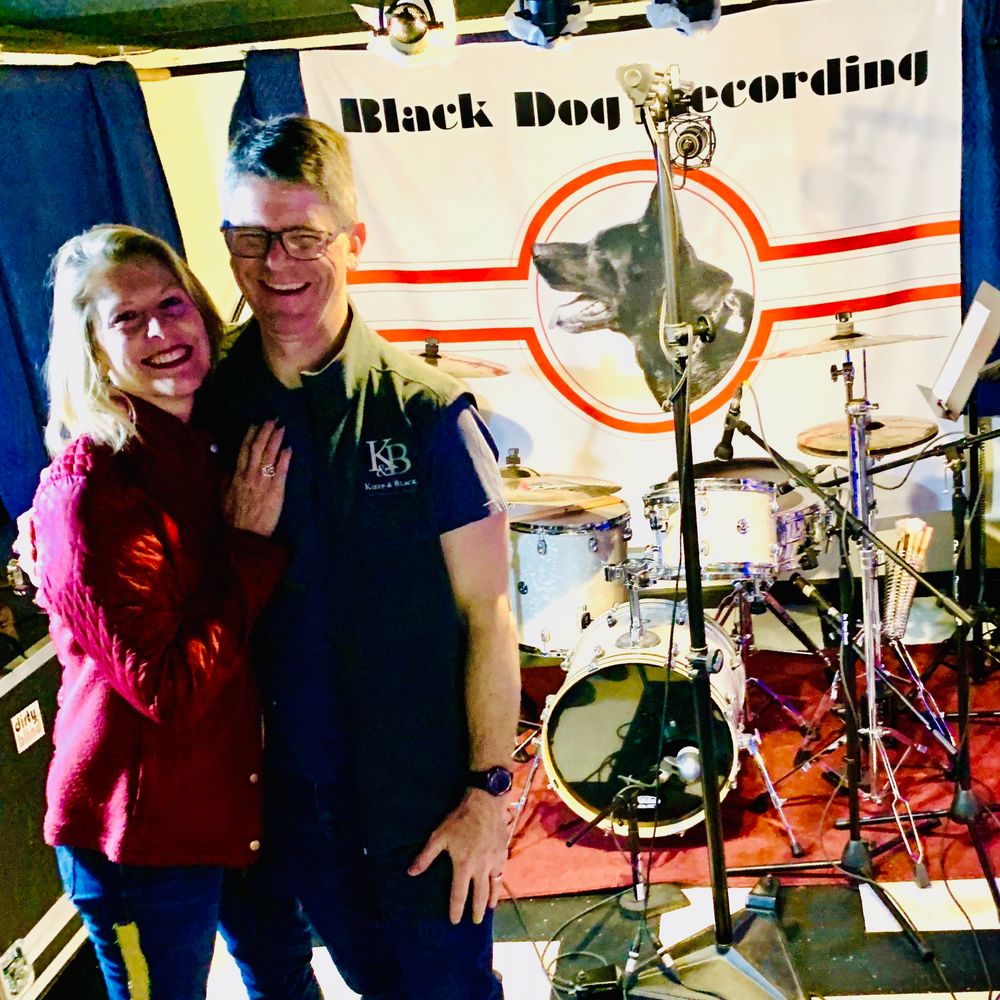 later
First day of recording done! It started with Susan driving me to Black Dog, where we promptly got our car stuck in the mud just outside the studio. It's not out in the country or anything, it was just muddy right around the parking area. Two guys came out to help get the car unstuck and that's how I met Jason, who's playing drums, and Brandon, who's playing bass. I immediately noticed Brandon's NC state flag belt buckle, asked about it, and learned that he's from Hillsborough.  (Side trip: Hillsborough was the original state capital, a beautiful town near Chapel Hill. For reasons I won't go into, it's also where Susan and I first kinda-sorta-not-quite started dating.)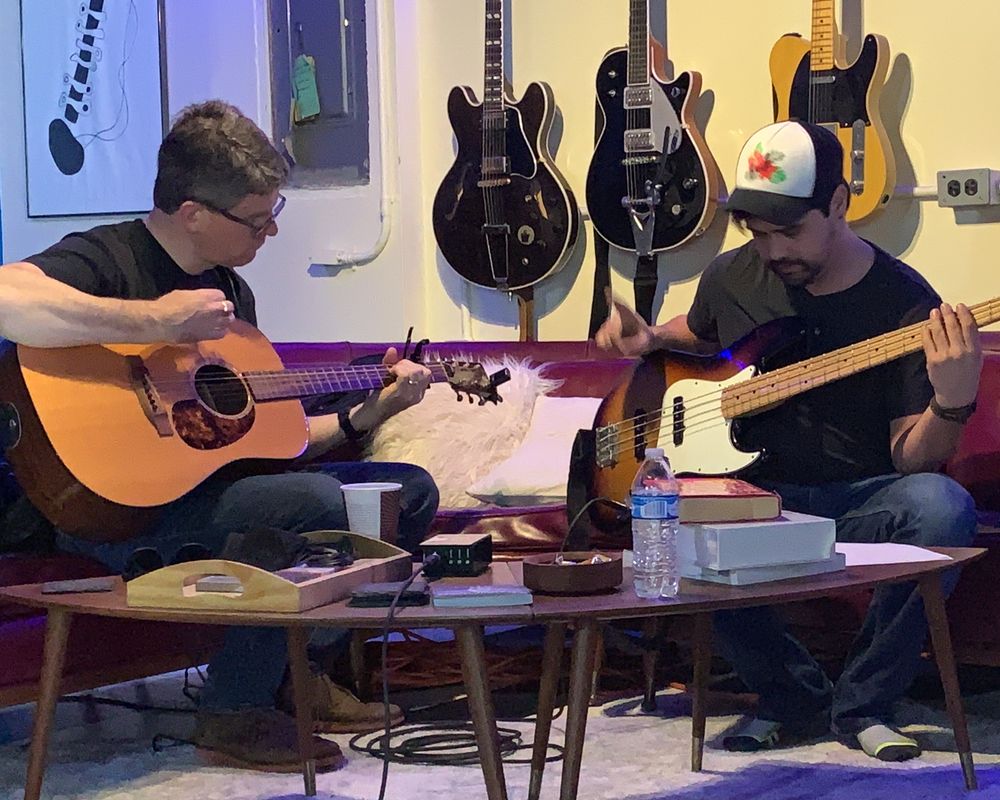 Today we did drum and bass tracks for four songs – KFC, California, Small Town Heaven, and Pack It Up. I had sent them stripped-down recordings of all the songs ahead of time; for each one, we talked about what I was looking for in terms of sound and feel, and Brandon and I might spend a little time going through the chord changes. Then the three of us played through it together enough times to get it down and get each of their parts recorded. I kept wanting KFC faster. I explained to Jason that I'd been listening to Superchunk when I wrote it and that's how it ended up being that fast. Not sure he knows Superchunk, but we got it up to speed anyway. They kept wanting Pack It Up faster than I was inclined to play it, and I'm still not sure if it's maybe too fast. Somebody suggested switching to ½-time on the solo section, to which I was like, "Hell yeah!" I suppose if there's a hell-yeah song on the record, that one's it. They gave Small Town Heaven just the right jazzy swing beat and walking bass line. Probably my favorite bit from the day, though, was on California: in the quiet section just before the last chorus, I asked Brandon if he could do some nice bass runs, and what he did was just beautiful and perfect.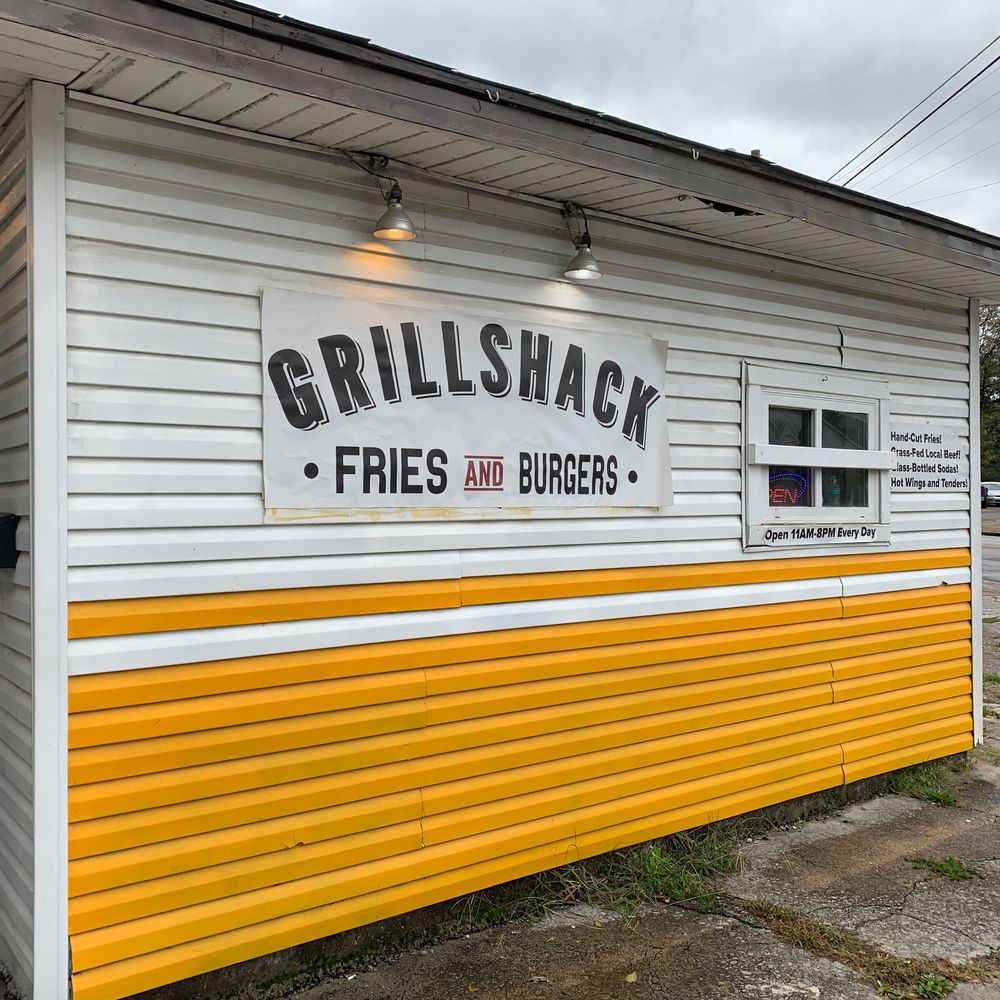 We had lunch at Grillshack (amazing burgers and fries), which gave us a chance to talk some. Jason and Brandon are great guys. Thirtyish, I guess?  Super-nice, really talented, professional, fun, and responsive to thoughts and requests. They have a band together called Super Nash Bros, doing multiple shows every week on Broadway in Nashville and traveling to SEC college campuses and bars in Louisville, Indianapolis, Chicago, etc. They were also very complimentary of the songs, which seemed genuine and really meant a lot to me. Also encouraging to me: I was not nervous or self-conscious playing with them. I suppose that's in part a function of knowing we have a job to do and limited time in which to get it done. The process of recording the bass and drum tracks was great for me because it gave me the chance to play and sing through the songs a bunch of times without worrying about it being "right." That was an unexpected bonus. One of Pete's other engineers, Dan Davis, ran the board most of the day, and he was also very professional. Another surprise was that I was in a little sound booth the whole time, apart from the rest of the studio. Of course, it wouldn't have worked to record the drums otherwise, I'd just never thought about it.
Note: It's the first really cold weather of the year, and the AirBnB hosts want you to turn off the HVAC mini-split units in the high-ceilinged, concrete-floored renovated garage living space when you're not there. Ostensibly it's to keep utility bills lower, but it seems just as likely that the units have to work harder to heat the place back up after they've been off all day, as opposed to just being turned down. Anyway.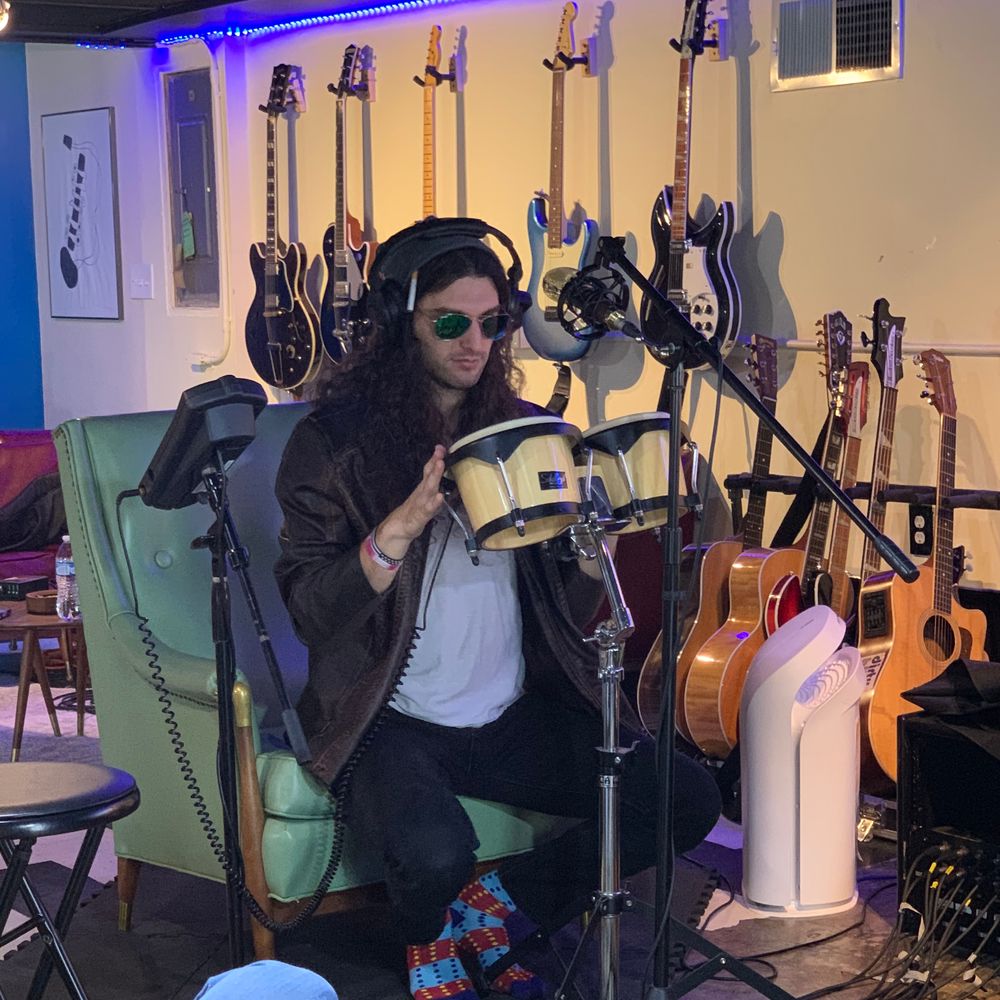 DAY TWO - nOVEMBER 1, 2019
MORNING
We got bass and drums done for the other two songs, Ponder Cove and Good Things. The rhythm tracks on Ponder Cove have kind of a Latin vibe, which I believe was Jason's idea - he said he was thinking about the Paul Simon song "Late in the Evening" (which is obviously a great song), just trying to do something a little bit different. I do like that it gives some more rhythmic variety to the record. Good Things is what I was going for, starting with just acoustic guitar and voice and ending with a full-band, slow R&B kind of feel. Again, the guys were great today. Their bandmate Dan (different Dan from Engineer Dan)--who's also from Hillsborough and has a studio there--was around, and they're all hilarious together. Finally, Jason added a couple of percussion tracks: a little shaker on California and bongos on Ponder Cove. Before the guys left, we reviewed all the tracks to listen back and clean up any stray issues. Pack It Up still felt too fast to me, but they were unanimous that, No - it really needs to be that fast. Dan from NC said, "It's a good driving tempo." I told Susan about it later and right off she said, "Oh good, I like that one fast." So there you go; that one's going to be a rocker. I'm interested to see how the songs all hang together as a group. Brandon said he enjoyed the challenge of the songs, that they weren't just the same kind of stuff they play every night and that there was room for creativity in coming up with their parts. That made me smile.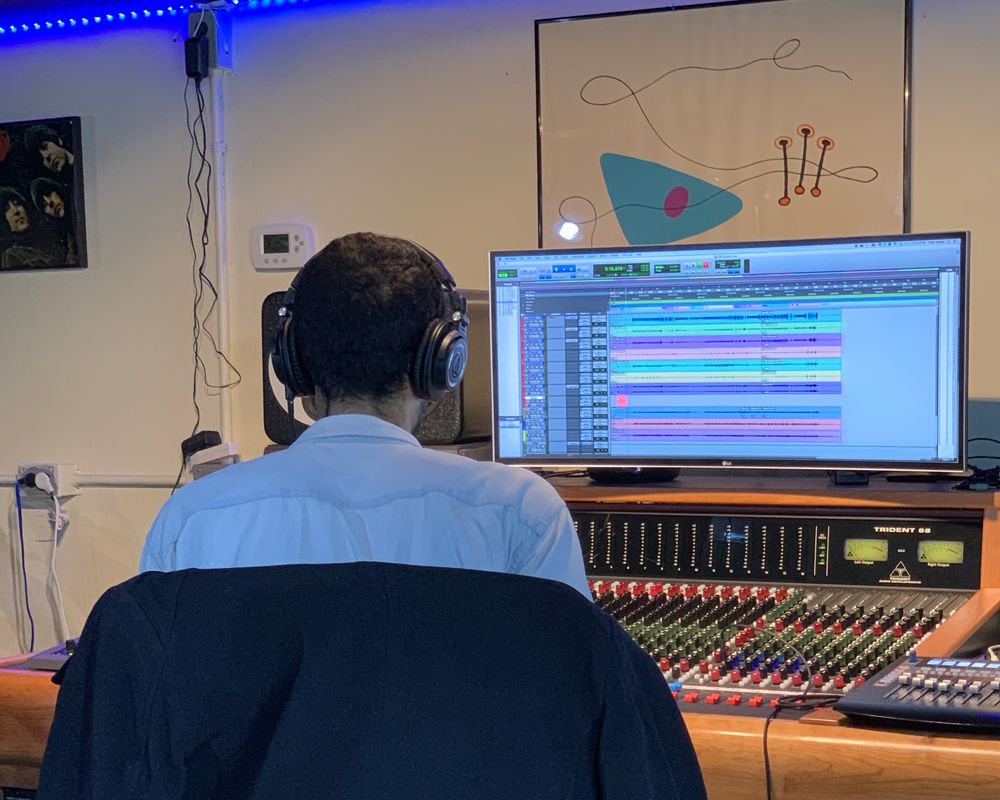 AFTERNOON
Once the guys were all done, we started on the acoustic guitar tracks and man, it's hard to play in time – like really playing in time with other people, not just loosely but tight. Actually, I think it's easier when you're playing live with other people; what's hard is playing in time with other recorded tracks. I did OK when there was a beat going, although I was still constantly pushing/rushing the beat, but when there was nothing else there it seemed like I was all over the place. Pete said at one point, "You're riding a Ducati right now and you want to be cruising in an old Lincoln lowrider." That was helpful, but what finally really helped was Dan saying, "Just really lay back." That gave me the confidence to trust that I could let the beat come to me, that maybe I even needed to feel like I was behind to actually be in time. We got acoustic guitar tracks for California and Ponder Cove recorded.
The Airbnb hosts are named Greg and Stephanie, same names as my best friend from Oxford and his wife. I told my friend Greg that I was pretty sure our hosts weren't them, but I would let him know, just to be sure. They're not. Tonight, Susan and I met her sister Lisa for a nice dinner together at Park Café, near where we're staying.  Lisa lives in Nashville, and we don't get over here enough, so it was good to get together with her.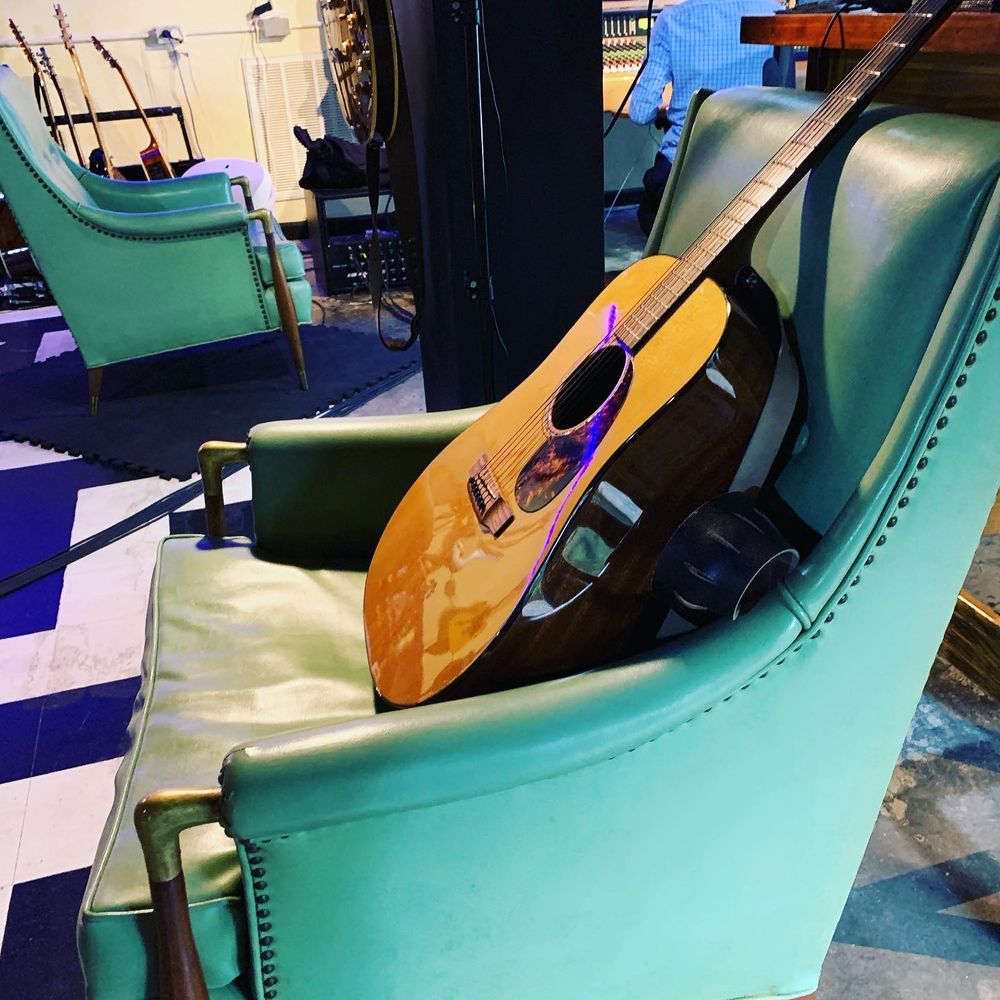 DAY THREE - NOVEMBER 2, 2019
MORNING
We finished acoustic guitar parts today – KFC, Small Town Heaven, Pack It Up, Good Things – and started vocal recording with California. The guitar parts went quickly – I would say each one took about an hour, hour and 15 minutes (all those run-throughs with Brandon and Jason really paid off). I went to lunch with Dan at a Nashville hot chicken place; I got the "Medium" and sure wouldn't have wanted to go any hotter. Dan is a guitarist, has a band and is working on getting some session gigs; he enjoys working with Pete.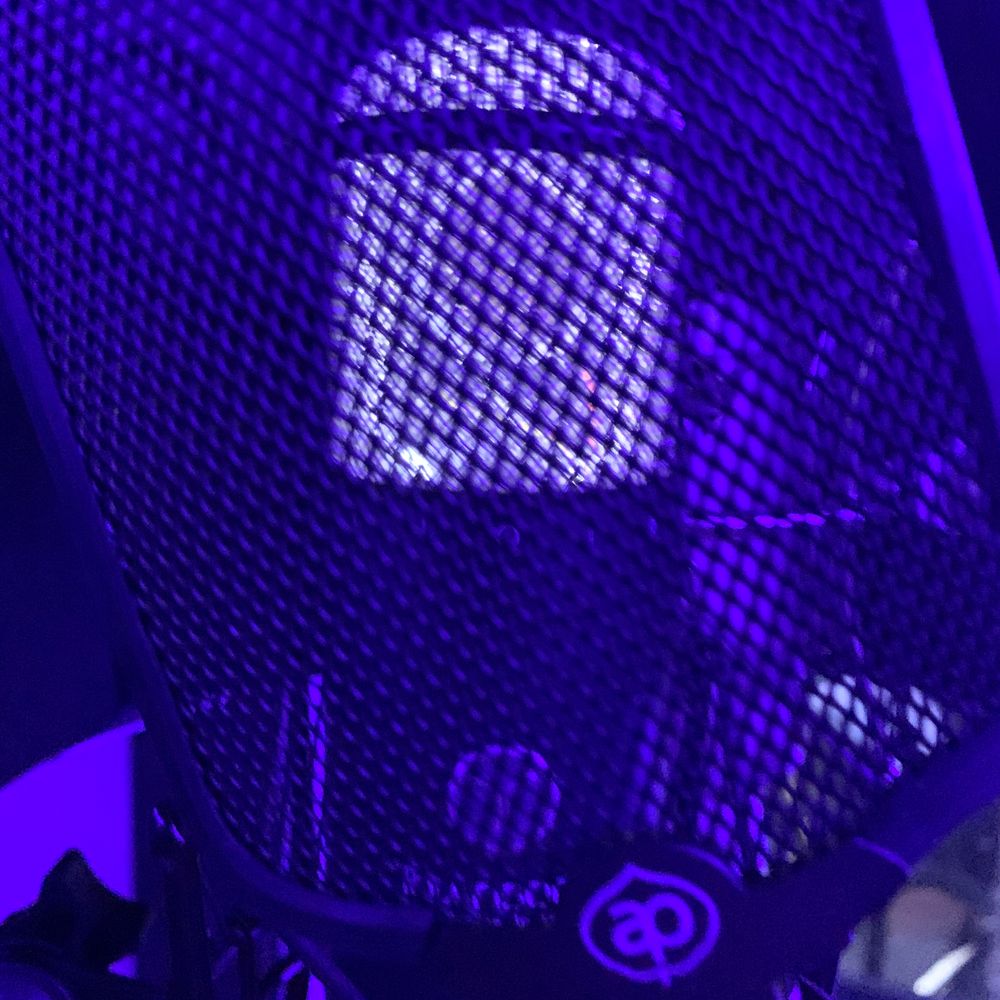 AFTERNOON
I got really sleepy at about 3:30 and stretched out on the 50s-era sofa in the studio while Pete and Dan set up vocal mics. I didn't think I'd fall asleep, but then I crashed back to consciousness when Pete started playing drums loudly to wake me up. We started in on vocals at about 4:15. Pete was a lot of help with that, pointing out (albeit in a much nicer way) that I've basically been doing a terrible job controlling my breath. We worked on it over several takes and my performance got a lot better. He made different suggestions, such as focusing on singing the consonants—basically a kind of trick to take your mind off things you don't need to be thinking about, i.e., if you're thinking about pitch you're less likely to hit it. I said it made me feel a little bad for people who've been listening to me sing badly all this time (lol).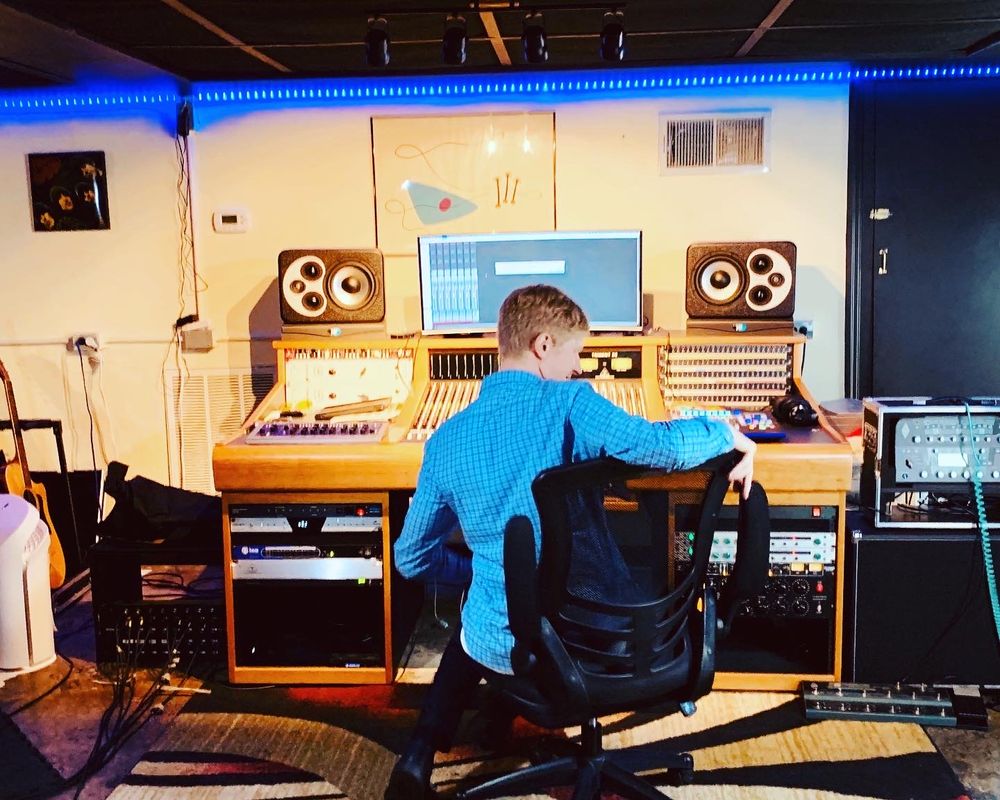 Day 4 - November 3, 2019
I walked into the studio this morning to hear a mix of California playing, complete with the lead vocal plus a sweet 12-string Rickenbacker track Pete had added last night. Hearing it, I said out loud, "Holy shit!" And I was immediately glad I had done this project because I heard my song so... enlarged, by these other parts/contributions and the fact that they had all been recorded really well.
We spent most of the day recording vocals on the rest of the songs. Ponder Cove was the hardest, I figure it's because the melody line really moves around a lot and there are several different sections to it. I do like that about that song. It was just Pete and I until about 4:00, when Dan showed up and Pete had to start setting up for a house concert he's hosting this evening. Dan and I then spent time adding electric guitar tracks to Pack It Up (nice, fat-sounding Gretsch) and KFC (Pete's Telecaster). I love playing crunchy electric rhythm guitar. Susan showed up at 6:00 and we went to eat at Café Roze—I think it's in East Nashville? It was really good, anyway, and I needed something lighter after the last few days.